Here at Staterra, we love Autumn. Not only does pumpkin magically appear in every food and beverage, it is also a great time to get outside and be active.
Here are a few examples of the many things to do in and around Ottawa!
Gatineau Park
Gatineau Park is great anytime of year but in the next few weeks it will put on a display of colour, rivalled only by Canada Day fireworks. There are plenty of trails throughout the park, everyone will find one that suits their activity level and have a chance to see the spectacular colours. You can plan your trip here: http://www.ncc-ccn.gc.ca/places-to-visit/gatineau-park/fall-rhapsody 
Biking along the Ottawa River
There are many bike paths around the city. The one along the Ottawa River is one of our favourites. You will get the best views cycling west to east along the river. You can join this path anywhere between Kanata and downtown Ottawa. Once you get to the portion that follows the John A. MacDonald Parkway there are plenty of spots to stop for a break and take in views along the water. Here are our two favourite stops along the way. The first one requires a slight detour on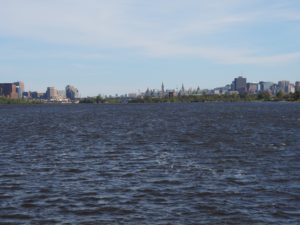 Champlain Bridge at the Island Park intersection. Follow the bridge towards Quebec; half way across the bridge is Bate Island with great views of Parliament Hill from a distance. The second is shortly after you get back to the parkway called Remic Rapids. There are great views of the city from here and you can see the inuksuks that line the shore. If you are looking for a something to eat or drink before you finish the route the Mill Street Brew Pub is a great option and if you want to wait until you have made it to Parliament Hill there are plenty of spots in the Byward Market.
Apple Picking
A great way to get out with your family is to spend a day apple picking. Not only do you get outside doing an activity but also you end up
with apples to use in healthy snacks. No matter what part of the city you live in, there is an orchard close by.
Here are just a few of the orchards around the city:
Looking for a way to use some of the apples that you picked? Check out our recipe for apple pie energy bites!