We believe there aren't 
enough options out 
there to support
mental wellness
in women.
So we made one.
We believe there aren't 

enough options out 

there to support 

mental wellness 

in women.
So we made one.
How It Works
AMIE is based on our three pillars of mental wellbeing:
Brain Health  |  Hormonal Health  |  Gut Health
From the results of your symptom-based wellness questionnaire, we generate a custom formula to provide nutrients to support these pillars, in order to best resolve your mood imbalance.
Your personalized mood supplement will come as a single powder, taken once per day. You can expect to experience the full effect within 60 days, with many clients experiencing positive results within the first 2 weeks.
One of our registered practitioners on staff will also follow-up with you every few weeks to ensure the program is going well, answer any questions you may have, and adjust your formula accordingly.
Our preliminary research suggests an improvement in overall mood, a decrease in anxiety, as well as an increase in energy levels.
But we want to go one step further.
We are now initiating a formal placebo controlled trial to document how our personalized blends improve perceived stress and mental wellbeing in women.
Our Ingredients
Your formula will consist of a blend of vitamins, minerals, amino acids and select herbal ingredients. To ensure we provide the most effective products, we always:
Source the highest quality ingredients.

Use third party testing to validate the purity of the ingredients we use.

Only use natural sweeteners, flavours, and maskers.
What ingredients do we choose from when creating your 
personalized formula?
Amino Acids
5-HTP
L-Tyrosine
L-Theanine
L-Threonine
Taurine
Arginine
Lysine
L-Glutamine
Vitamins / Minerals
Vitamin A
B-Vitamins
Vitamin C
Vitamin D
Vitamin E
Zinc Citrate
Magnesium Glycinate
Selenomethionine
Herbal / Extracts
Chaste Berry
Indole-3-Carbinol
Maca Root
Turmeric
Boswellia Serrata
St. Johns Wort
Spirulina
Konjac Root Powder
Other
Lactobacillus Acidophilus
Digestive Enzyme Blend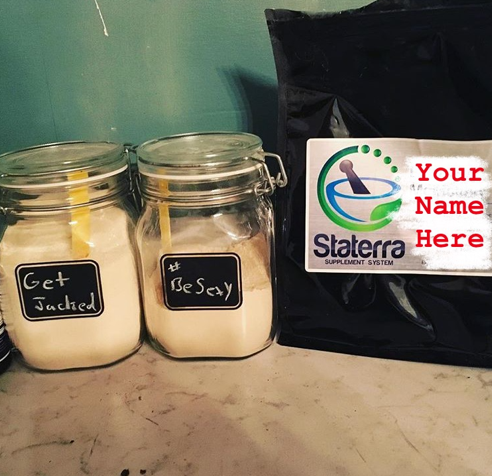 "For a long time I suffered with anxiety (particularly job related), and found it very difficult to not only focus, but to find the energy to follow through on tasks without feeling a lot of stress and without loosing sleep in the process. Since being on my custom formula I have more focus and energy, and I am better able to remain calm and not let my anxiety get out of control. I am looking forward to continuing the process of using Staterra, and am excited to see continued progress in the way that I feel and manage stress, anxiety, and depression." Barbara Pellanda
"When I reached out to Staterra for the custom formula I was recovering from a concussion; feeling foggy, lethargic, experiencing mood swings, and had feelings of intense sadness at the drop of a hat. After 1 week of taking the custom formula, the brain fog was almost completely gone and within a month I felt almost back to normal except for some lingering mood swings which seemed to disappear around the 2-month mark. So much love for this company!" Emera Godoy
Still Unsure?
We are all about supporting women to feel their best, which is why we have a 100% satisfaction guarantee.
If you take your personalized formula for one full month and aren't satisfied, your next month is on us.
If you're still not happy, for whatever reason, we will refund your money.
One dollar from each product purchased will go towards the Lanark County Interval House (LCIH), supporting women in need.
We have the ingredients to make you great!
 admin@staterra.ca
 1051 Carp Road  Ottawa, ON K2S 1B9